Politics & Sociology
Politics & Sociology programs incorporate the perspective of political science and sociology to address critical attributes and fundamental issues of political and social change in this 21st-century society. The program is designed to make any individuals enable or familiar in related subjects. Further this program mainly focuses on the social and political movement, protest and more form of policy actions & participations. Finally, this program gives the chance to edify environmental politics and globalization as well as wide range of relevant topics in sociology. The Master Degree Program includes Human Rights in a World of States, social science, social transformation, terrorism, etc., Ph.D. Politics & Sociology several topics covered that are classified under found modules viz., Politics & Sociology core, statistics, electives, and dissertation. The following Table presents the Politics & standard Sociology module covered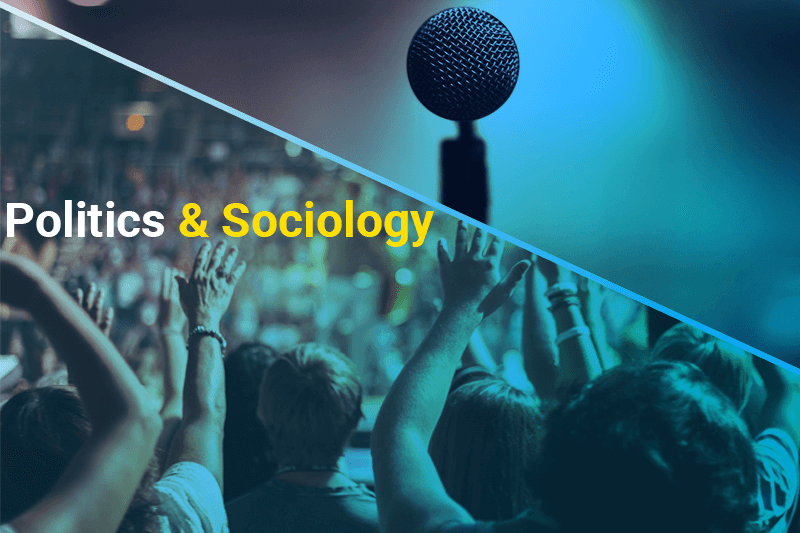 CORE AND ELECTIVE POLITICS & SOCIOLOGY MODULES
Resistance and the Politics of Truth
Human Rights in a World of States
Federalism and Federal Political Systems
Decision-Making in the European Union
The Idea of Civil Society
Design of Social Research
Resistance in Theory
International Relations Theory
Social Change & Political Order
Politics and Sociology of the Environment
Terrorism and National Security

Social Science Perspectives on Environmental Issues
Organized Civil Society and the Third Sector
Resistance and Alternatives to Capitalism and Democracy
Designing Democracy
Critical Social Research: Truth, Ethics, and Power
Regional Conflict & Security Analysis
Resistance in Practice
Dissertation
The following Doctoral degrees in clinical science Table.2 include both research areas and research methodologies:
Global public policy and international governance
Comparative politics and society
Environment
Family
Gender
Inequality
Criminology and Law
Culture
Urban sociology

Comparative/Historical Sociology
Globalization and political science
Political sociology
Education
Sociological theory of race and gender
Demography
Qualitative methods
Quantitative methods
Democracy and social movements
Advanced Sociology in research methods
Ph.D. students are required to complete dissertation and assignment tasks of Politics & Sociology to get maximum marks. It strongly accentuates that dissertation writing as important to get score 92% in Ph.D. and 80% in master degree. Credits units might be various from one institution to another, but assessment marks play an important role for those pursuing Ph.D. and Master degree in Political and sociology from the worldwide nations including USA, UK, Australia, New Zealand, etc. It faces numerous experiments while undertaking this research module such as dissertation and research methodology. During this academic year, most of the Politics & Sociology students are finding the most difficult part in dissertation writing like developing a proper thesis statement, finding relevant literature & data as well as poor planning & time management. In additional, Ph.D. and Master degree students are facing complications in understanding their subject objectives, its modules & program requirement as well as the weight of passing credits to articulate research area into the best research paper. Undoubtedly, this challenge clearly indicates that social and political science course as important as 50% dissertation, thesis, assignments, coursework and statistical analysis based score to get high credits marks in place of complete research work.