How to cope up with a huge amount of literature while writing your Ph.d. management literature review?
A Ph. d. management literature review is your judgment and criticism on previously published information pertaining to a particular topic. To be more precise, it acts as a summary of the references that you have used in your research.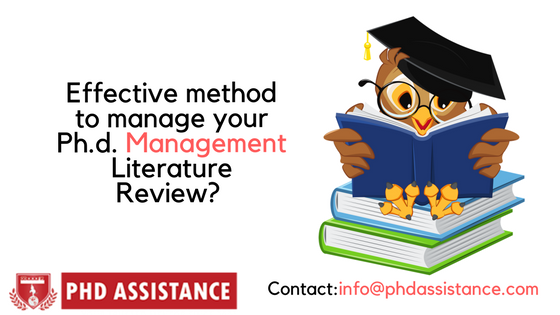 Writing a Ph. d. management literature review is very essential as far as dissertation writing is concerned. It denotes the credibility of the Ph. d. management dissertation. It can present new interpretations or be a synthesis of old and new perceptions. Now, there would be situations when you would be having a huge amount of literature at the time of writing your dissertation. In fact, students love research.The more they get into the research part the more they realize how much more they can learn. This scenario would be a 'motivational' one for them since they would have garnered insight on several business management dissertation topics.
However, the outcome is that the student ends up with having huge amount of papers! At the end of the day, the student should also start writing.
Here are some ways to cope up with this situation when you need business management assignment writing help
Speed up the reading process:
You would be inclined to read the paper line by line in a slow manner. But you can go a step forward and speed reading. It will save your time.
Note down the key points in a paper
As mentioned earlier, you would be having a huge amount of papers to read. Here then, you can try to make out what is so significant in the paper. Note down these crucial points in a piece of paper so that there is no concern of reading the same content again (now that you are aware of what are the main points).
Commence with a narrow topic instead of a broad topic
It is always advisable to select a narrow topic so that you can complete it within the deadline. Ensure that this topic is well-outlined.
Get a vision of the literature review
In this scenario, you would be wondering whether you could complete the Ph. d. management literature review on time. Here, you can commence with the skeleton of the same. Go through the table of contents steadily so that you form a vision of your writing. With this skeleton, you can place all the details in the appropriate section.
The deadline for submitting the paper would be closer and you would never have the inclination to start writing. When you finally get that inclination, you have to follow a structured approach in writing the literature review. So ensure that you keep the deadline in mind, end the research process in the right time, and complete your literature review on business management for Ph. D.