A handy guide to writing Literature Reviews (LRs)
Writers from PHD Assistance advise on writing LRs for sciences, social sciences, and humanities.
What is an LR?
A literature review or study implies that you have reviewed a collection of online or print literature (papers, pamphlets, and articles) pertaining to the topic of your study; your audience does not expect your personal view point. You must review recent (last 5 years) body of literature that is closely related to your research. You may refer our experts for a complete mentoring program for your LR work for various subjects.
In an LR, you must summarize (review) the key information and reorganize (synthesize) that information; interpret old literature or club them with new literature on that topic. And by assessing the sources, you are sharing relevant information to your audience.  Literature reviews are written mostly for scientific papers but occasionally in humanities; in addition, LRs are considered as papers in their own right.
A signpost of credibility
LRs act as a guide post to a specific subject. Literature reviews provide you with a handy guide to a particular topic and keep professionals abreast with the latest information in their field. A broad literature study shows the caliber of the author and projects them in good light. Most scientific papers require an in-depth literature study.
How does it vary from other writing?
An academic research paper proposes a new argument and an LR is one among the various sections. Hence, as mentioned in the earlier paragraph, the LR summarizes and rearranges apt yet relevant information to support new research initiatives.
Hone in on a specific title
You must talk to your guide to clarify the specific area of your study; your research topic must be very specific. And you must know the number of references you want to support your citations. Clarify the various types of sources such as web pages, published books, online journals, etc.); ascertain if you want to give definitions and history.
Find similar works
Review existing literature on your topic of interest to get ideas on altering your title and organizing your final draft of your LR; your bibliography is a great way to get an ideas of the amount of research you have done.
Zoom in on your topic of interest
Scoping your work will make your job less cumbersome as there are plethora of literatures on various subjects. And you need to zoom in on your specific topic of interest to  filter the number of sources that you plan to use; your research guide does not expect you to do a 100% review of all the literature out there. Talk to your professor about the subject and interview them to gain more ideas pertaining to your topic. Ask specific questions to get an idea on the literature search so that you can be sure of your topic.
Use fresh sources
Some subject specializations deem that you use recent sources of literature; for example, medical ailments are prone to new developments and you must use the latest information. Sometimes, information of the previous 2 years also may not be appropriate and you need current information. But in the case of humanities, you may need to show the history and how people and times change over the centuries. Review other bibliography to get a glimpse of what your research project entails and this will also give cues to new or existing topics of interest to scientists and scholars.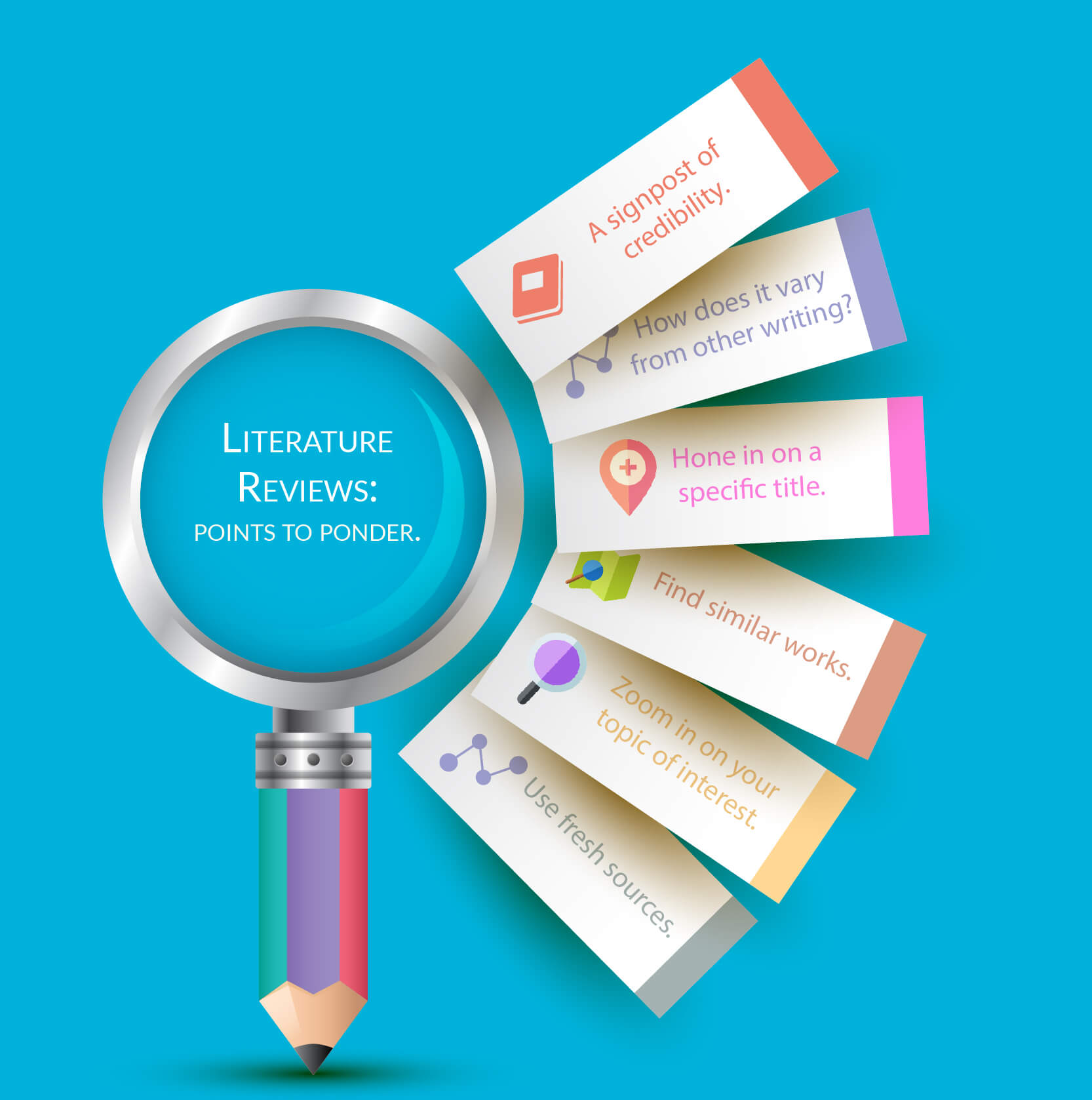 Tactics for writing a better LR
Focus your LR on a theme
You must select a theme to be specific about the structure of your review; LR is centered around various ideas and not the actual sources of literature. Connect the various sources together in your LR. Find out if there are any gaps in your study and if they present single or multiple answers to the problem. And see if there is a patter or trend in all of the literature sources that you have collected. So you must consider all these aspects as you read a broad range of material.
Communicate to your audience
You will not find an argument (thesis statement) in an LR; therefore, you must set the learning outcomes to your readers through a key organizing guideline.  Here is an example to give you more clarity:
The latest trend in dealing with congestive kidney failure uses both surgery and medicine.
Organize your work
Based on your focus, you must write in a clear and direct fashion; present the information of your LR in an effective manner to your reader. Classify your LR into topics and sub-topics in an orderly manner; consider local and global trends pertaining to your topic.
Categorize your work
Introduction, background, sources, recommendations, or conclusions—these are the various sections of the LR just like any other academic or scientific paper. Here is a brief description of these categories:
Introduction: Provides the main theme and structure of your LR.
Body: Discuss various sources methodologically, thematically, or chronologically.
Conclusions: This section provides recommendations and you must mention what you have gleaned from the various literatures.
Consider the following example:
Your LR relates to materials that focus on white tigers and you've just finished reading National Geography, and you wonder if that tiger's portrayal is true. You start with some articles about the physiology of tigers in wild life journals written in the 1990's. But these articles refer to some American zoological studies performed on tigers in the early 19th century. So you review those materials. Then you look up a book written in 1998 with information on how white tigers have been project in other forms of art, such as in African poetry, in Italian paintings, or on animal bones, as the tiger hunters in the late 19th century used to do. This makes you ponder about Alaska tiger hunting methods during the time of Jim Corbett and so you find some academic articles published in the last four years on how accurately Jim Corbett wrote about the white tigers in his books.
Here are some methods to organize your work
By chronological order
In a chronological method, you must write the materials that were published first albeit lack of connectivity among the subjects. Hence, the LR's chronological focus is lost.
By publication order
Write the sources LR by publication order if you find an important trend.
By what's trending
Another method to arrange the sources chronologically is to study the sources under a different trend such as the history of tigers to reveal the time periods in history.
By thematic order
Thematic reviews of LRs are topical classifications instead of time. But time does factor in such topic based reviews. The only difference between chronological and a topical classification is the aspect that is highlighted the most. Thematic reviews have various subsections and reveal the transition of time periods among the sections.
By methodological order
The methodological approach highlights the methods of your research and influences the type of documents and manner in which these documents were discussed; these are the other sections you might want to consider:
Existing situation: Information necessary to understand the topic or focus of the literature review.
Chronology: The history of the literature, or an idea that is necessary to understand the literature review, if the body of the literature review is not already a chronology.
Standards: List the criteria that you used for selecting the literature. For example, you must list the peer-reviewed articles and journals.
Question: Has the LR led to further questions and is more research on the topic required.
You can start writing once you have the structure of the LR; here are some more guidelines.
Refer sources
In the example above, the writers refer to several other sources as evidence to state their point. An LR in this sense is just like any other academic research paper. Support your interpretation with current sources to show the validity of your research.
Be choosy
Choose only the most relevant points from each source in your LR. The focus of the type of info must relate to any of these: methodological, thematic, or chronological.
Negligible use of quotations
LR discusses topics in a succinct manner instead of elaborate discussions and quotations; however, you can sprinkle a few quotes (to highlight a point) in your LR but you must do so sparingly. Follow guidance of your university guide or experts at PHD Assistance if you need to include more quotes. Use quotes only if you cannot rephrase what other authors have discussed.
Recap
You must recap your sources in each section of the LR and relate others' work to your work by rephrasing the importance of the study.
Maintain your view
Your view/voice should be the focus of attention as your LR weaves in others' research literature along with relevant citations. So, you must begin and finish the discussion of others literature in your own words and views.
Paraphrase cautiously
Accurately represent other authors' work in your own language while paraphrasing. Cite sources according to the style guide requirements of your university and read your university's handbook on plagiarism guidelines.
Review your work
Draft in hand? Now you're ready to revise. Spending a lot of time revising is a wise idea, because your main objective is to present the material, not the argument. So check over your review again to make sure it follows the assignment and/or your outline. Then, just as you would for most other academic forms of writing, rewrite or rework the language of your review so that you've presented your information in the most concise manner possible. Be sure to use terminology familiar to your audience; get rid of unnecessary jargon or slang. Finally, double check that you've documented your sources and formatted the review appropriately for your discipline. For tips on the revising and editing process, see our handout on revising drafts.
Refer books and style guides
We advise you to do your research to find the recent publications on this subject. You must follow the referencing style requirements of your university. For guidance on citations styles, please see refer PHD LR services.
PhD Assistance, is world's reputed academic guidance provider for the past 15 years have guided more than 4,500 Ph.D. scholars and 10,500 Masters Students across the globe. We support students, research scholars, entrepreneurs, and professionals from various organizations in providing consistently high-quality writing and data analytical services every time. We value every client and make sure their requirements are identified and understood by our specialized professionals and analysts, enriched in experience to deliver technically sound output within the requested timeframe. Writers at PhD Assistance are best referred as 'Researchers' since every topic they handle unique and challenging. We specialize in handling text and data, i.e., content development and Statistical analysis where the latest statistical applications are exhausted by our expert analysts for determining the outcome of the data analyzed. Qualified and experienced researchers including Ph.D. holders, statisticians, and research analysts offer cutting edge research consulting and writing services to meet your business information or academic project requirement. Our expertise has passion towards research and personal assistance as we work closely with you for a very professional and quality output within your stipulated time frame. Our services cover vast areas, and we also support either part or entire research paper/service as per your requirement at competitive prices.
www.phdassistance.com