How To Find Sources For Writing My Climate Change Research Proposal?
In Brief
You will find the best dissertation research areas / topics for future researchers    enrolled in all subjects.
In order to identify the future research topics, we have reviewed the literature (recent peer-reviewed studies) on research proposal.
Climate change related sources are easy to find but the credibility and reliability must be evaluated.
Even though Wikipedia is not a valid source, it can be used for preliminary research.
Secondary sources from other reference articles can be used.
Categorization must be done and specific keywords must be used for searching the articles.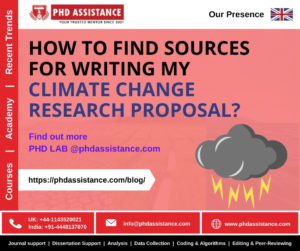 Research on climate change and thus related topics have been a debatable topic and developing research paper on this topic required credible sources and varied information. Incorporation of different topics in the research proposal needs to be critical and to the point in order to develop the proposal and find an answer. Additionally, climate change related sources for research proposal are easy to find but the credibility and reliability of these sources need to be evaluated before taking notes from them. There are various ways of searching effective sources for writing up climate change research. These ways will be structured afterwards.
PhD Assistance works on Research Proposal in all subjects. Hiring our experts, you are assured with quality and on-time delivery.
Start searching with Wikipedia
It has been known that Wikipedia is not always a credible source for writing up important research papers or for conducting any type of researches. However, that is not always the case. Students could visit Wikipedia for two main reasons. While writing proposals on climate change students could visit this source platform for get an impression on the specific topic area included in the vast arena of climate change research and effects. Articles in this platform could provide with an idea of the vast topic area based on the chosen research proposal subject.
This platform is sometimes effective in acquainting with other common areas that could hinder while writing the proposal without having specific understanding. Beginning the research through this source will help in developing understudying and knowledge on climate change as this is a debatable matter for ages. Additionally, on a second level, this source platform helps in finding out other important study material and their sources in this page (Esteves Gonçalves da Costa & Cukierman, 2019). Often, it could be said that different links are used to attach with the articles and clicking on them students could get more in depth understanding of the related topic areas. Therefore, for the initial stage, it is effective ton consider this platform as credible.
 Hire PhD Assistance experts to develop your research proposal for any subject.
Searching through library
In the second step, after excavating thorough Wikipedia and published articles on this platform, students should visit the library. It should be challenging for students to find some elements that have been recently started into existence. For example, trying to find articles and documents about the social media pages (Facebook, Instagram and others). The university or any other institution affiliated library should not have these types of articles.
But, the climate change issues are really considered important for debating and research, therefore, students could easily find books, articles about this topic from the library resources. If students still find it difficult to select papers from the library, peers and teachers are there to help out.
They know and understand better regarding various topics; therefore, it could be really helpful if students ask for help form them. Searching through the library resources need log in ID and password. Usually, students have this credibility for logging into the library (Bremer & Meisch, 2017). After log in and with the achieve basis understanding from Wikipedia, begin pointing out the effective sources.
It should be remembered that students must not go after any resources. The best research resources should be identified. Pointing out the best resources could be complicated sometimes; but with recent date publication, specific material highlighted in the books, journals and finding out how many times these articles had been used by others, students could identify their own research sources.
PhD Assistance experts has experience in handling dissertation and assignment in any industry with assured 2:1 distinction. Talk to Experts Now 
Searching through secondary resources
After identification and gathering important data form these two sources, students should measure their research size. This proposal size will help in determining what kind of external secondary sources they will required afterwards to make their paper more credible. Obliviousness of the fact that most credible sources to be taken from the secondary sources are not appreciated. Credibility of the shorted papers and sources could be done through judging the materials included in the papers, how vast and in-depth analysis is done in those papers and who are the authors of these papers. On the other hand, it could be remembered that students should always target for the most recent secondary sources from various platforms.
The most recent articles and journals could deliver information that is happening current around the globe as an aftermath of the climate change calamities. Recent papers are required for reviewing most revenant and scientific technology application for reducing climate change in various countries across the world (Hancock & Algozzine, 2017). This information is necessary for increasing richness of the research proposal you are intending to write.
Additionally, it should be remembered that while considering on the most recent and convincing secondary sources, one must check how many times these sources have been cited by others. Most remarkable and credible judgment could be done through Google scholar. In this way, students could search for secondary sources credibly.
PhD Assistance has vast experience in developing dissertation research topics for students pursuing the UK dissertation in any subject. Order Now 
Blend up the research proposal source categories
After shorting out what should be used and what not, students should not end their search abruptly. While writing about climate change or any of this type of concerned and global impactful topic, students should consider mixing up the research proposal source categories. Books, articles and other secondary sources are important to understand the topic area and most importantly they are citation credible.
However, limiting the search to these sources will not help in developing richness and attractiveness of the research proposal. Innovation, unique and most recent contents should be incorporated effectively in the proposal. These resources could be easily found through news, editorials, from videos, interview recordings and others. Though, it is true that these sources are difficult for citation and references, but these are loaded with the most recent materials on any selected topic such as Climate change issues (Marx, Haunschild, Thor, & Bornmann, 2017).
Depending on the size and topic of any research proposal, students should point out how many credible sources they are going to use in the write up. Sometimes with many sources confusion could arise and including too many information may decrease effectiveness of the writing. At the present, after reading this, students should know what should be avoiding during writing any research proposal on climate change issues and what; how the search process should be carried away.
Referred Blog
References
1. Bremer, S., & Meisch, S. (2017). Co-production in climate change research: reviewing different perspectives. Wiley Interdisciplinary Reviews: Climate Change, 8(6), e482. https://doi.org/10.1002/wcc.482
2. Esteves Gonçalves da Costa, B., & Cukierman, H. L. (2019). How anthropogenic climate change prevailed: A case study of controversies around global warming on Portuguese Wikipedia. New Media & Society, 21(10), 2261–2282. https://doi.org/10.1177/1461444819838227
3. Hancock, D. R., & Algozzine, B. (2017). Doing Case Study Research: A Practical Guide for Beginning Researchers. Teachers College Press. Retrieved from https://books.google.co.in/books?id=9DfwDQAAQBAJ
4. Marx, W., Haunschild, R., Thor, A., & Bornmann, L. (2017). Which early works are cited most frequently in climate change research literature? A bibliometric approach based on Reference Publication Year Spectroscopy. Scientometrics, 110(1), 335–353. https://doi.org/10.1007/s11192-016-2177-x