The Middle East & African Studies (MENA)
Most of the nations, the student, has been preferred and increased interest in the Middle East & North African (MENA) studies subject especially American desired to understand the people, cultures, and languages. The Middle East & African Studies course help to improve the growth of knowledge of Middle East culture, politics, women and gender, Morocco: culture and society, Islam and politics, Muslims in western politics, Hebrew Bible, entertainment history, religion and society and more. The program offers an interdisciplinary curriculum in which students develop proficiency in any one of the Middle Eastern languages. They are involved in a critical examination of various present-day methodologies in the field of Middle Eastern studies. Predominantly, the program develops proficiency in Persian, Hebrew, Arabic or Turkish. The masters of arts program will help to develop the new perspectives of the Middle East and North Africa that replicate the transforming geographies of the 21st century including more topics such as politics, culture, religion, etc., After completing the master of art in MENA, those are interested in doing advanced research work could pursue the doctoral of philosophy in this subject. Below, a list of common modules and research areas topics both masters and Ph.D.
The following table covers Master of Arts in MENA include
CORE REQUIREMENT

ELECTIVE REQUIREMENT

Middle East Studies: Approaches, Themes, and Controversies
Middle East Culture & Politics
Gender or Culture in the Middle East
Middle Eastern history
Islamic studies

Women & Gender in the Middle East and North Africa
Religion and Popular Culture
Islam and Politics
Islam: Religion and Society
Muslims in Western Politics
Jerusalem
Jewish Life and Thought
Contemporary Jewish Literature and Film
Hebrew Bible (Old Testament)
Elementary & Intermediate Hebrew
Elementary Arabic I & II
Intermediate Arabic I & II
Archaeology of Egypt and the Near East
Middle Eastern Humanities
Women and Religion
Research topics include Ph.D. in the Middle East & African Studies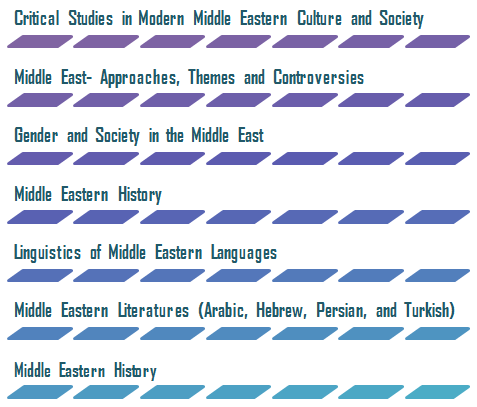 Students are essential to complete dissertation/thesis, manuscript preparation and assignment writing in the Middle East & African Studies (MENA) to obtain higher credit score to finish your program. It strongly underlines that dissertation & thesis writing as essential to getting score 75% in Ph.D. and 50% in master degree. Currently, Ph.D. and Master's degree students from the UK, USA, Australia, New Zealand, etc. face numerous confront while undertaking a course and research proposal. It is a known fact that to complete the program; it is mandatory to submit thesis or dissertation research writing. It is indispensable to hire the professional who are having more years of experience supporting in all stuff of writing works to finish a degree and score high credits.