NHS focus towards establishment of Artificial Intelligence lab to improvise medical research
Huge sums are invested globally in medical research and development – and with good reason. – Geoff Mulgan
Soon AI tools will replace doctors to check patients for many cancers. It is only one of the many benefits of National Health Service (NHS) to open national artificial intelligence lab to boost medical research. AI with its wide applications can change a lot in medical research. The proposed initiative will save approximately 22,000 lives a year. It also aims to cut down 10 % death of prostate, ovarian, lung, and bowel cancer patients within 15 years.
The novel aim of the British government to enhance patient care by the proposed AI lab will fulfill research in NHS.  Also, its infusion of 250 million Euros for it will boost the role of AI within the health industry.  The lab will help to develop many AI tools for better and earlier detection of many cancers and treating dementia. Also, the technology will make NHS an advanced predictive, preventive, and personalized healthcare service.
With this new development, AI influence in medical research will increase manifold and could have mind-boggling results. It may help you to understand how to choose your dissertation topic with new ideas and concepts for both the medical research and AI topics.
This UK government's proposed initiative has opened doors for many dissertation topics for students who want to know how to choose your medical research.  The application of AI technology in it has a wide scope and to a new level never seen before. Apart from solving many challenges of NHS, it can open the floodgates of many types of research in medical research and healthcare industry, including: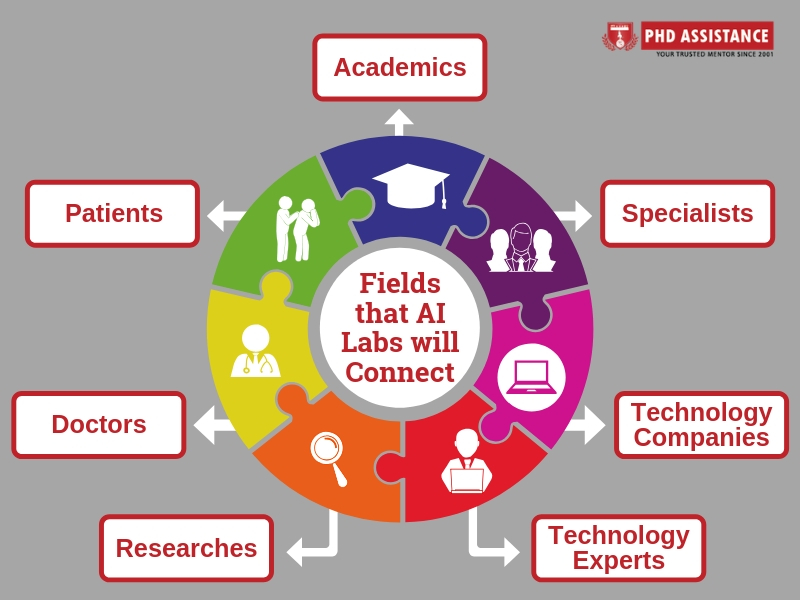 1. AI lab will connect:
Academics
Specialists
Technology companies
Technology experts
Researches
Doctors
Patients
2. AI powers in medical research:
Improve healthcare
Save lives
Earlier identification of lung, skin & other cancers
Treats dementia
Treats more than 50 eye conditions from scans
Help doctors to utilize their valid time on serious issues than identifying ailments.
3. To improve hospital services:
UCLH or the University College London Hospital and the Alan Turing Institute were the first to try out AI after the UK government's proposed AI lab in NHS. The goal of this partnership is for the use of AI to
Streamline hospital service.
Improve disease diagnosis.
Improve the flow of patients and staff in the hospital.
Prioritize treatment for patients with serious conditions.
Shorten the waiting time in the accident and emergency department.
Tasks like CT or computed tomography normally done by doctors and nurses to be replaced by AI.
In future to utilize ML, the subsidiary of AI to assist doctors in the diagnosis and treatment of cancers and personalized care to patients.
4. Magnetic Resonance Fingerprinting:
Microsoft's quantum team and the US-based Case Western Reserve University are collaborating to use quantum inspired algorithms to enhance detecting cancer.  Case Western has developed a new innovative technique, Magnetic Resonance Fingerprinting.  It will improve the speed and accuracy of MRI or magnetic resonance imaging tests.  With this collaboration Case Western will harness Microsoft's quantum-inspired algorithms to optimize the earlier cancer detection process.
5. Increase pharma research:
AI is set to accelerate pharma research and also the growth of the pharma companies by adding many new products.  The use of AI by drug companies to accelerate the drug research at all levels includes:
Search for new compounds.
Looking for potential combination therapies.
To create personalized medicine.
Discover new uses for previously tested compounds.
Search for novel treatments for genetic neuromuscular disorders.
Optimize clinical trial planning.
Patient as well as clinical research grade data can be accessed.
Advance data-driven personalized healthcare in cancer.
Analyze critical clinical trial operations.
Predict dementia and neurodegenerative diseases from voice samples.
6.  NHSX:
The proposed AI lab in NHS will form part of a new joint organization for digital, data, and technology called NHSX.  It is an Accelerated Access Collaborative new joint unit to take forward the digital transformation in the NHS and healthcare system of the UK.  Patients and staff are to benefit from this latest digital systems and technology which combines the best talent from government, NHS, industry, and technology. NHSX is aimed to create the most advanced healthcare service in the world to
Diagnose diseases earlier.
Free up staff time.
Empower patients to have the ability to control their healthcare.
→ The responsibilities of NHSX:
Work with NHS and wider digital economy to build world-class digital services to improve care for patients and also enable medical research.
To bring together the responsibilities of digital, data, and tech spread across multiple agencies, teams, and organizations.
To set up a new national policy and develop best practices for NHS technology, digital and data-including data-sharing, and transparency.
To develop, agree and mandate clear standards for the use of technology in NHS
Improve clinical care by delivering agile and user-focused projects.
Support use of new technologies by the NHS, both by working within the industry and also through its prototyping and developing capability.
Ensuring common technologies and services like NHS app which are designed to enable trusts so that surgeries don't have to reinvent the wheel each time.
Help to buy the right technology by applying technology standards, and streamlined spend controls and new procurement frameworks.
To set national strategy to mandate cybersecurity standards for NHS and social care systems with security designed from the start.
Developing digital training, skill, and culture to make digital-ready staff.
7. Medical imaging:
The proposed AI lab in NHS will have the potential to revolutionize medicine by gleaning new insights into medicine. AI thrives when an algorithm learns from huge amounts of data to spot patterns.  When it learns from thousands of scans, it could lead the medical imaging. Since AI is as good as the data it learns from, NHS could be a good source for it to develop too far-reaching levels.
The combination of data, technology, and expertise will offer incredible opportunities for any student struggling on how to choose the right dissertation topic.  With the advancement of technology, healthcare industry will witness a new wave of innovation and the right opportunities for finding many dissertation topics to write successful dissertations for getting the required grades.