Finance Counting on Digital Transformation to Enhance Strategic Value
We're witnessing the creative destruction of financial services, rearranging itself around the consumer. Who does this in the most relevant, exciting way using data and digital, wins!"- Arvind Sankaran
In today's digital flywheel, finance counting on digital transformation to enhance strategic value is crucial. It determines the leaders from followers in this highly competitive financial services business. But, it is not an accident to correlate the digital leadership and improved overall performance but innovative sustained characteristics to do it.
As per McKinsey's survey of 300 firms, only 20 of them are creating strategic value by greater investments in digital transformation.  They streamline systems to reduce costs, realize incremental revenues, and improve investment performance.  With increased competition, cost management is also becoming a prominent factor for enhancing the value of digital transformation. Dissertations should focus on the characteristics of the managers of these firms for being successful in digital transformation in this increased competition
The work of the chief financial officers (CFOs) of major finance companies is now transformed from operational delivery to digital transformation for enhancing their strategic values. In the McKinsey survey, 77% of the CFOs admit that it is in their purview to perform the business-wide operational transformation.  And 81 % think that their main responsibility is to identify and target areas across the business for the new value.  They create intelligent finance and accounting operating model that yields insights from continually enriched data sets and AI with three objectives:
Harness the power of data
Leading with new technologies
Developing future F&A or Finance & Accounting talent
The two common characteristics of firms enhancing strategic value by digital transformation:
They confirm that there are no more barriers between their operations and technology groups. They have now combined their budgets and development strategies and making them central to their competitive strategies. By this way, they create strategic value than enhancing or enabling it. 

While they focus on minimizing costs in legacy areas, they also invest more in new data along with digital capability and talent.
Ways to enhance strategic value with digital transformation: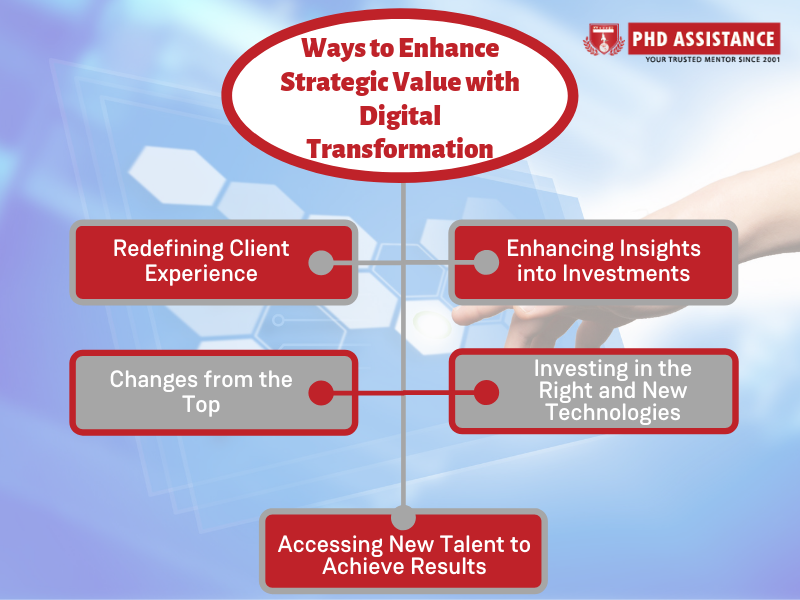 Finance counting on digital transformation to improve strategic value happens in many ways, including:
Redefining client experience
The digital advance approach should redefine the client experience by reimagining and automating core business processes. It will reduce the cost of operations which do not face the client and emphasize on sales and service. Redesigning the onboarding processes of institutional clients is one way to not only reduce costs but also for quick funding of new accounts which also includes the following:
It enhances engaging clients and increases revenues by accelerating the recognition of fees.
It leads to far more rapid cycle times.
It enables using new analytics to transform the client experience.
Improves retention of AUM or assets under management.
Enables to make fast and better-informed investment decisions.
Enhancing insights into investments
Only intelligent investment insights will enable digital transformation to enhance strategic values which includes:
Automating investment-management agreements with NLP or natural language processing.
Ensuring compliance with client guidelines.
Assisting portfolio managers for quickly establishing their positions.
Invest in analytics that assesses the actions of portfolio managers in advance.
To help portfolio managers to counteract behavioral bias in investment decisions.
To speed up the investment process, maintaining an investment book of record with all security positions across portfolios. It helps to have an accurate and timely view of market exposure without the need for manual reconciliations.
To rethink the footprint and sourcing strategies for the functioning of the middle and back offices.
Focusing more on the highest-value strategic differentiators.
Low-value commoditized activities have to be rationalized.
Changes from the top
For the effective digital transformation of finance to enhance strategic value needs changes from the top brass of the organizations. Co-opting the CEO and the CIO is crucial. It ensures that the digital strategy receives sustained investments for being successful.  Also, it is vital to take on board everyone concerned to remove skepticism and gain support.
Investing in the right and new technologies
Investing in the right digital technology is crucial. In today's rapid technological advances, the following investments could be the right adaptation of the new technology:
RPA or robotic process automation
AI & MI or Artificial intelligence and its subsidiary machine learning
These technologies help in forming intelligent finance operations. Driving efficiency improves decision making thereby delivers business outcomes with reduced costs.
Accessing new talent to achieve results
Integration of financial activities by technology and other developments need fresh and new talent. It could produce excellent results and achieve new goals in the business. Hence an intelligent finance function will access a new generation of finance leaders thriving on rapid innovation.  Flexibility to change quickly to the new innovative ways is the need of the hour. The other wide range of capabilities that are required includes:
Data visualization ability
Best domain and industry expertise
Being a vital strategist
Extensive expertise in AI and IoT
Finance counts timelier, relevant, and predictive insights from digital transformations. Only then it can transform finance into a strategic hub of any organization.  For further assistance to write dissertations for finance counting on digital transformation to enhance strategic value seek professional help.
Research Help GuideResearch Subject
Latest Research Topics
Dissertation Proposal Writing Service
thesis for mba finance
finance dissertation writing
Dissertation writing service
accounting and finance thesis
financial accounting thesis