Guide to an engineering Ph.D. literature review
Contemplating a literature review? Remember these sage tips from Ph.D. dissertation help guides.
"What do researchers know? What do they not know? What has been researched and what has not been researched? Is the research reliable and trustworthy? Where are the gaps in the knowledge? When you compile all that together, you have yourself a literature review."
― Jim Ollhoff, How to Write a Literature Review.
As you write the Ph.D. engineering literature review, ensure you follow these tips to showcase your ideas (Jensen):
Compare and contrast views of different authors;
critique previous research work;
reveal lapses in existing research;
shed light on how your work relates to previous work;
state problems, conflicts, debates, gaps;
define a research area in a new way; and,
probe previous work's results.
You must structure your lit review. Yes, these are the 2 ways you can arrange your Ph.D. literature review. A chronological structure lists the order of publication; thematic structure clubs sources based on the following criteria: concepts, topics, and concepts. Because these criteria are important to the author's research.
Sections in literature review
Include the following in your writing:
Summarize the subject, issue, or theory under consideration;
categorize sources to support or contradict a position;
present connections between the sources;
draw conclusions on significant contributions; and,
develop of your subject.
So a lit review is an overarching study. A scientific and academic writer, you are expected to write an analytical overview of the significant literature published on your topic. Your objective is instructional if your readers knows less than you do on the research topic; your purpose is to demonstrative—familiarity, expertise, and intelligence with the topic if the audience are more knowledgeable than you. You can hire or take support from external PHD dissertation writers.
At the outset, you must ensure you meet the following expectations of your readers:
First, juxtapose your original work in the context of current literature;
second, analyze and explain the major issues surrounding your topic;
third, Portray the interconnectivity among each of the research publications;
fourth, ascertain novel ways to interpret;
fifth, clarify and address any gaps in previous research;
sixth, clear the air on contradictory erstwhile studies;
seventh, sort out literature that has a major contribution to your research; and finally,
sixth, draw the roadmap for further research (in the future) on your topic.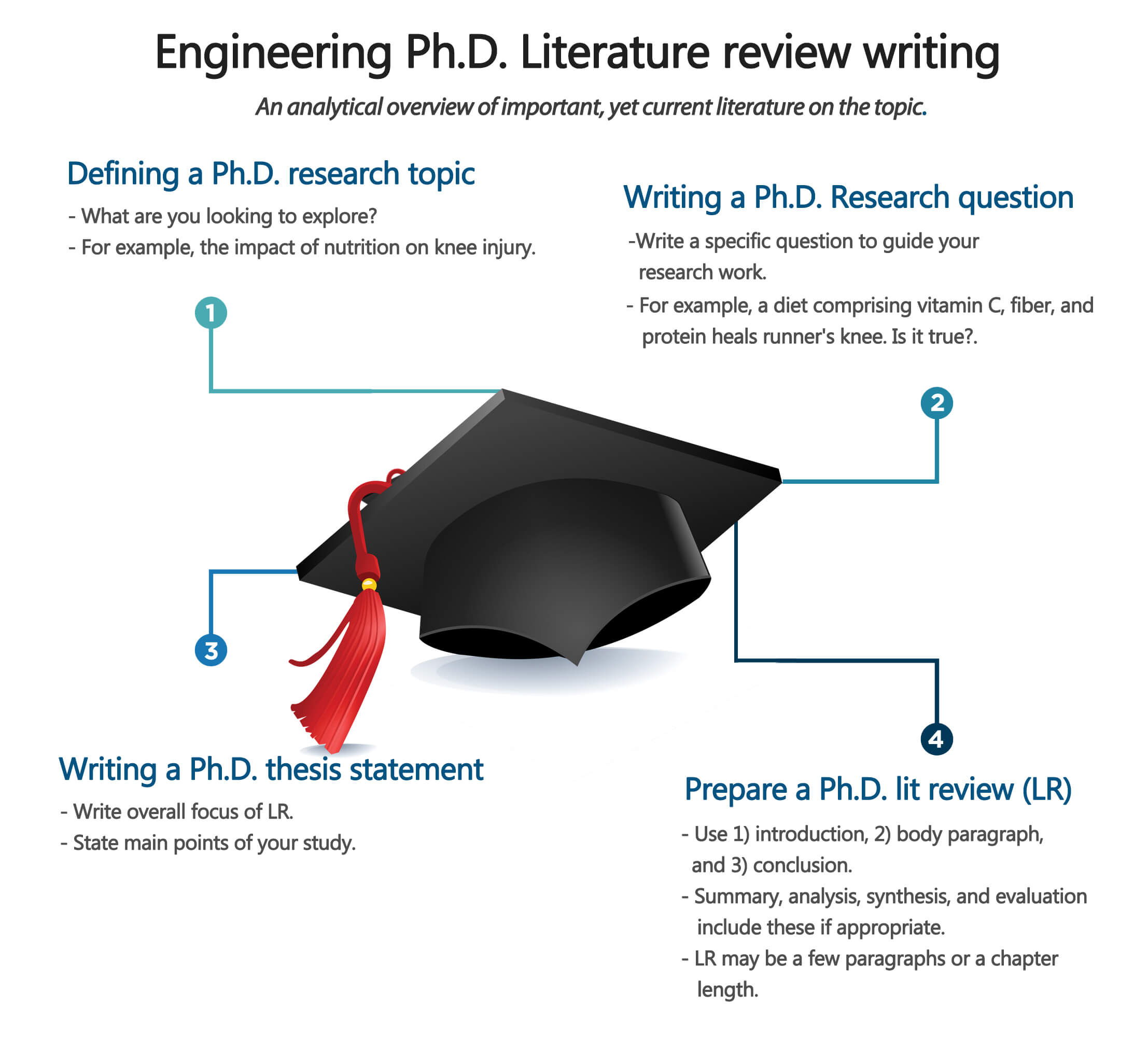 The substance of the literature review
Structure your engineering lit review well; ensure logical flow of ideas from point to the subsequent points. Ensure sources and references are current and relevant, cited appropriately according to your discipline.
Present terminology and viewpoints on the topic in an unbiased and comprehensive manner.
Provide an overview of the subject, issue, or theory under discussion;
split outside works into categories and concepts (in favor or contrary to a particular standpoint).
link the works to what has come prior to your work and ideas;
give conclusions about those works; and,
mention those that provide significant contribution.
To include or not to include each work, you must consider the following
Value: Do the author's conclusions add value?
Convincing: Which of the author's theses are credibility and why?
Unbiased: Is the author's point-of-view neutral?
Credentials: What are the authors' qualifications to make the judgments?
Transition between points to analyze, synthesize, and assess external opinions instead of simply summarizing them. And use reporting verbs to communicate clearly; see the following examples:
To attack, condemn, object, and refute, use critical assessment;
To allude to, believe, hypothesize, suggest, use tentative evaluation;
To advocate, argue, hold, and see, use positive evaluation; or
To address, cite, comment, look at, use neutral evaluation.
Citations in Ph.D. literature review
The way you present the evidence or material in the literature review needs to show that you are 1) selecting and mentioning only the most relevant material; 2) explaining the quotation in light of your argument; 3) introducing and integrating only relevant quotations; and, 3) focusing on the language of quotations in the interpretations.
Use citations to locate your research in a larger narrative. The meticulous use of citations reveals your decisions to give greater emphasis to either the reported author/message. Integral citations (non-parenthetical citations) are those where the name of the cited author occurs in the citing sentence. Non-integral citations make reference to the author within parenthesis or through end or footnotes.
Your ideas are the focal point of your writing; however, align your work with previous research to illustrate its relevance and gravity to the topic.
In conclusion, here is the best way to write a sort version of an engineering Ph.D. literature review that links to opinions in your discipline of study:
summarize key research by stating arguments and main points;
analyze by examining the elements or structure of the research;
synthesize or combine ideas to form an integrated theory via critical evaluation, comparing and contrasting; and finally,
evaluate and apply to topic based on the criteria you choose;
We can help you in your Ph.D. journey. Talk to us!
PhD Assistance is world's reputed academic guidance provider for the past 15 years have guided more than 4,500 Ph.D. scholars and 10,500 Masters Students across the globe. We support students, research scholars, entrepreneurs, and professionals from various organizations in providing consistently high-quality writing and data analytical services every time. We value every client and make sure their requirements are identified and understood by our specialized professionals and analysts, enriched in experience to deliver technically sound output within the requested timeframe. Writers at PhD Assistance are best referred as 'Researchers' since every topic they handle unique and challenging.We specialize in handling text and data, i.e., content development and Statistical analysis where the latest statistical applications are exhausted by our expert analysts for determining the outcome of the data analyzed. Qualified and experienced researchers including Ph.D. holders, statisticians, and research analysts offer cutting edge research consulting and writing services to meet your business information or academic project requirement. Our expertise has passion towards research and personal assistance as we work closely with you for a very professional and quality output within your stipulated time frame. Our services cover vast areas, and we also support either part or entire research paper/service as per your requirement at competitive prices.