What are the future research trends in doctoral computer science engineering dissertation?
Computer Science Engineering is a broader and wider engineering discipline that combines the aspect of both computer science and computer engineering programs with primary focus on the basic elements of the computer programming, hardware-software integration, and networking.  Students pursuing CSE get to study the digital aspects of electronic engineering in addition to computer science subjects like computer architecture, program design, programming languages processor design and parallel computing.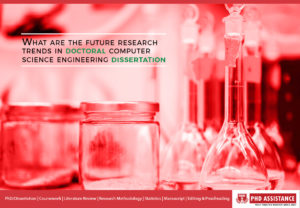 Writing computer science engineering assignments can be overwhelming and time-consuming for the students as it involves many steps primarily starting with research topic identification which plays a crucial role in securing them high credit score. Ph.D. Computer science engineering dissertation writing help from the industry experts will eliminate all their complexities involved in the selection of suitable research area as these professional subject experts will have sufficient knowledge about the new and innovative developments that are coming out in the era of mechanization.
With newer and newer Information Technology advancements happening in the rapid speed, Computer Science Engineering Master's / Ph.D. scholars need to be updated on the latest research trends in their specific field and select a suitable topic that is in line with the latest research trend and,  which offers them good scope for advanced research.
The choice of research area depends on the area of interest of the students and the actual topic can emerge from the interaction with the supervisor of the respective student. Also, the technological developments are country-specific and research trends in the computer science Engineering discipline vary in geographical regions like UK, Australia, Germany, Malaysia, Singapore, Saudi Arabia,  UAE.
Some of the important research areas in the Computer Science Engineering include
Architectures, Compiler Optimisation, and Embedded Systems
Networks, Distributed systems, and security
Information security and Intelligence systems
Collaborating Computing in Operations Research
Software Systems Engineering
Algorithm Design, Analysis and Engineering
Models of Software -intensive systems
Benefits of taking assistance from professional writing Services
A complete Ph.D. dissertation writing services team normally includes computer science and information technology Ph.D. professionals around the globe who possess vast experience working as research advisors, post-doctoral fellows and have successfully guided many masters/ Ph.D. students complete their aspired degrees.
By collaborating with the best minds in the Computer Science Engineering, students can get rid of the obsolete ideas and focus on a new innovative topic that is a trend with the latest technological developments around the globe.
Thus, Research in Computer Science Engineering is unbounded with diverse research carried out in different geographical regions.  A Ph.D. dissertation/thesis writing services team with the rich experience in handling dissertation projects from UK, Australia, Germany, Malaysia, Singapore, Saudi Arabia, UAE will be of immense help for the students pursuing research in this highly exciting discipline.