How phdassistance Guide to Develop a Good Ph.D. Research Topic in Finance and Law writing?
Proper selection of Ph.D. Research Topic in Finance and Law writing is the first major challenge encountered by the research scholars as the selected study topic needs to crystallize and effectively communicate their understanding to their research advisors in their respective field of study.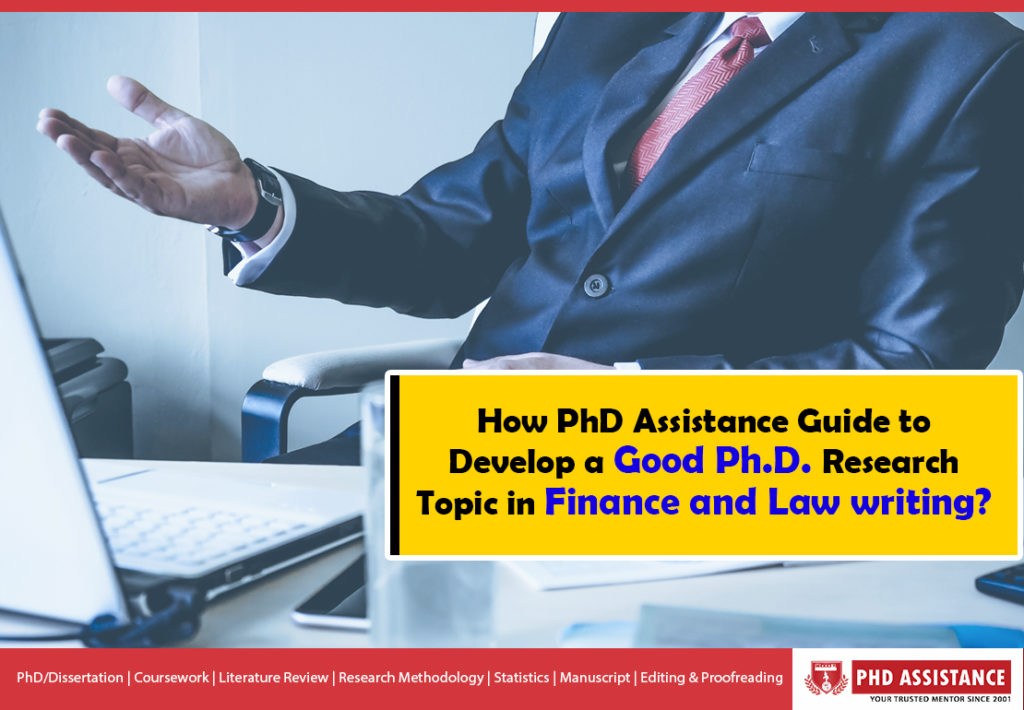 Ph.D.  program in Finance management covers a wide range of subjects and Finance dissertation topic selection will pose a considerable challenge for the students. There are many  genuinely interesting, manageable and potentially helpful topic relevant to the current research trend in  finance areas such as Microfinance, Retail and commercial banking, cross-border financial investment, Liquidity risk management, accounting control systems, and Financial ethics
Law dissertation can be challenging as the students need to identify relevant regulations, cases, and legal data in order to effectively address the research problem selected. Some of the major research areas for doing Law dissertation include family law, employment and equity law, commercial law, intellectual property rights, human rights and immigration law.
Important Criteria in dissertation topic selection
Ph.D. scholars pursuing finance and law dissertation need to conduct a detailed investigation during research topic selection process, which must comprehensively answer the following questions
Has the area and the topic have already been sufficiently researched?

Does the topic offer adequate scope for in-depth research and present new knowledge?

Will the topic be worthy to get published in renowned peer-reviewed journals and evince  significant interest from the professionals in the respective field?

Does the topic reflect the latest research trend in the respective discipline?

Topic selected for research is worthy of investigation?

Is adequate past literature available for writing a preliminary literature review?

Is it manageable to complete the study within the prescribed submission deadline
Students will be able to find a suitable answer to the above questions by taking Ph.D. dissertation topics selection tips in Finance and Law writing from their respective dissertation guides, Faculty members, professional colleagues, fellow students and professional dissertation writing services.
Why choose PhdAssistance for Dissertation Topic selection help for PhD dissertations?
PhDassistance has an in-house team of experts possessing the in-depth subject knowledge and rich experience of guiding research scholars and master's students specializing in finance and law.  
PhDassistance offers Ph.D. Thesis Topic Selection Service for Ph.D. Scholars and Research Scholars pursuing in India, UK, Australia, Germany, Malaysia, Singapore, Saudi Arabia, UAE, which can immensely benefit the students to find a suitable topic for their research study.
A consultation with the PhDassistance subject experts and professional writers in the field of finance and law will help the scholars to critically evaluate their basic research ideas and zero in on a feasible research topic that
Will be Manageable in size without much difficulty

Possess great potential to showcase their subject understanding, originality and significant contribution to new knowledge.

Can be completed within the researcher's timeframe and budget

Has 100% surety of getting accepted by their respective dissertation guide and evaluation committee with high credit score.