A list of top research laboratories in the UK for life science
Following is the list of top research centers in the United Kingdom with state of the art laboratory involved in medical research and other scientific researches. Norwich and Cambridge are home to three of these institutes each.
Babraham Institute, University of Cambridge, Cambridge, England.
Pirbright Institute, Surrey, England.
Institute of Biological, Environmental and Rural science, Aberystwyth University, Aberytswyth.
Quadram Institute Bioscience, Norwich Research Park, Norwich.
John Innes Centre, Norwich.
Earlham Institute, Norwich Research Park, Norwich.
Roslin Institute, Easter Bush, Midlothian, Scotland.
Rothamsted Research, Herpenden, Hertfordshire.
Cognition & Brain sciences Unit, Cambridge.
Laboratory of Molecular research, Cambridge.
Francis Crick Institute, London.
All the above institutes and their research laboratories are funded by UK Research and Innovation, an organization responsible for the allocation of state funds in the UK.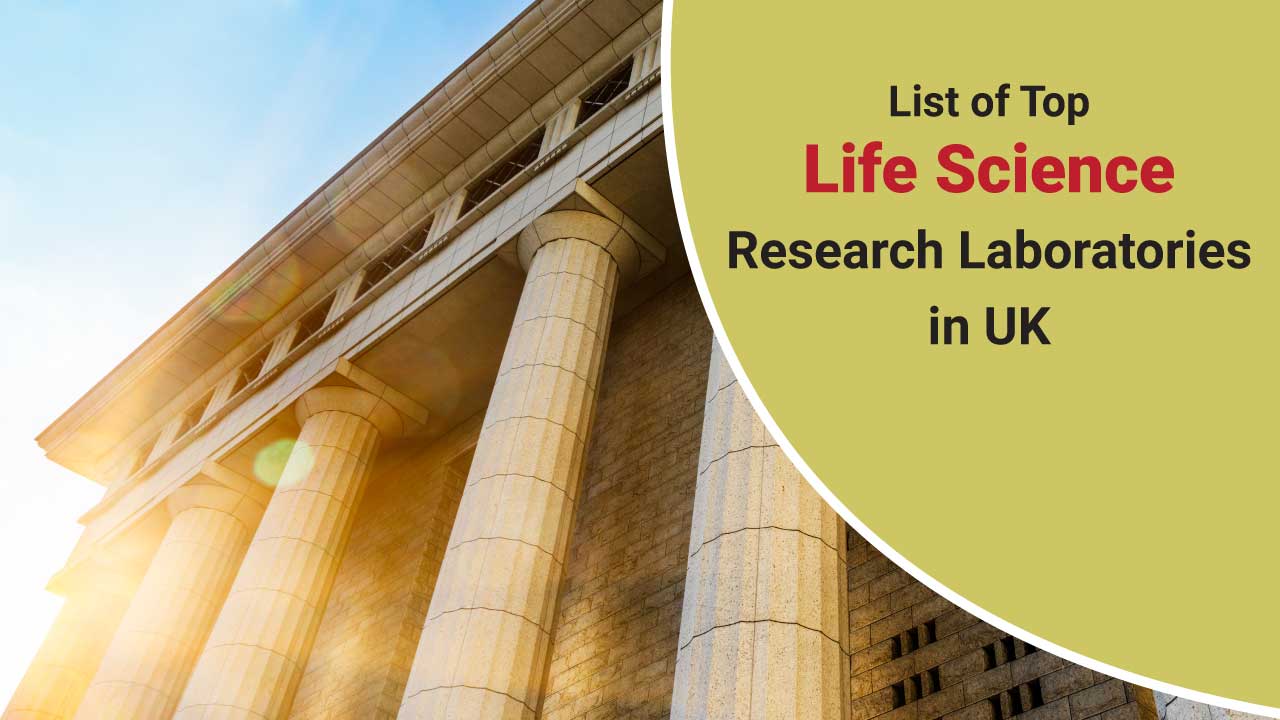 Many of the aforementioned research laboratories have facilities that facilitate various interdisciplinary research & experiments.
Babraham Institute:
Located at the University of Cambridge, this center specializes in biomedical research. Important researches are being conducted at its laboratory on molecular mechanisms that underlie cellular processes and functions.
Pirbright Institute:
This Surrey-based institute specializes on the study of infectious diseases in farm animals. The research laboratory began its operations in 1914 by testing for Tuberculosis in cows and has expanded since then, in both its scale and structure.
Institute of Biological, Environmental & Rural Sciences:
This institute, located at the University of Aberystwyth, Wales, studies animals, microbial science, and environmental impact of genome diversity. Started as University college of Wales, the center underwent as much as eight mergers to become IBER in 2008, after merging with the Biology department of the Aberystwyth University. The research lab has advanced facilities for genomics and phenomics testing.
Quadram Institute Bioscience:
The research center, formerly known as Institute for Food Research, is located at Norwich and specializes in food science. Operating from the newly built facility at the Norwich Research Park since 2018, the gastrointestinal endoscopy unit and clinical trials facility is expected to test over 40000 people per year. Research on food, gut, microbes and the relationship of the three to human health are studied at the institute.
John Innes Center:
Based in Norwich is this famous center for research on plants and microbial science. The research lab has the following Institute Strategic Programs (ISP):
Genes in the Environment
Molecules from Nature
Plant Health
Designing Future Wheat – with other BBSRC institute.
Earlham Institute:
Located at the Norwich Research Park, this institute for life science explores living systems by applying computational science & biotechnology to unlock unsolved biological questions. The research laboratory is a forerunner in data intensive biology in the planet.
Roslin Institute:
This world famous institute is located in Midlethion, Scotland. It specializes in animal sciences. The research laboratory gained international fame in 1996 for becoming the first to clone a mammal, Dolly- the sheep, from a single cell.
Rothamsted Research:
It is one of the oldest agricultural research centers in the world, located in Harpenden, Hetfordshire. Established in 1856, the center is known for one of the oldest and longest running experiments known as the Green Grass Experiment that has been continuously monitored since the beginning of the research center and has provided some great insights into evolutionary biology. Rothamsted research also specializes in statistics. Gensta, a statistics software, was originally developed in the institute. The center also has biochemistry, nematology and pedology departments.
Cognition and Brain Sciences Unit:
It is a leading research center on cognitive neuroscience, operating under the UK Medical Council. Established in 1944, this frontrunner in global in development of psychological theory and practice, has extensive research laboratories that include Magnetic Resonance Imaging (MRI, 3T) scanner on-site, as well as a 306-channel Magnetoencephalography (MEG) system and a 128-channel Electroencephalography(EEG).
Laboratory of Molecular Biology:
This Cambridge based research lab was responsible for the molecular biology revolution of the 60s, since then it has continued to be a leading center in the field and expanded its focus on cell biology, immunology, neurobiology, and instrumentation.
Francis Crick Institute:
Formed as a partnership between multiple institutes including UK Medical Council, this London-based research institute is the biggest single laboratory in all of Europe. The institute has a budget over 100 million pounds annually. The research lab boasts cutting edge technology and is involved in some of the most important biological research on cancer, immune, pathogens, aging, etc.

(Follow us and click here for our list of top physical science research laboratories in the UK.)
Research Help GuideResearch Subject
Related Topics
Research methods
Primary research methods
methodology example
Types of research
Secondary research methods
Primary research methods
Primary and secondary research
Academic Research
scholarly research